Films. Awards. Celebrities. Youth Icon. Youngsters. And to top it all, the energy of "Dilli"!! Those were the key ingredients in the making of the 1st Edition of the Delhi CG Animation Awards (DCGAA) held at the Siri Fort Auditorium, New Delhi on 30th April, 2012.
The DCGAA received accolades for the tremendous show of student film making talent across Delhi. It commenced with the screening of all the entries received and was followed by the opening of the awards ceremony in the traditional way of lighting the lamp by the Chief Guest, Mr. Anuj Kacker, CEO- MAAC & APTECH. The excitement unleashed thereon, when students performed one spectacular act after another and people were only raving about one, when another super performance enthralled the audience. The students of MAAC danced; play acted and anchored the show with commendable grandeur. They proved to be not only Animated Film Making aficionados but also turned out to be extremely multi-talented.
The awards were divided into open (Nation-wide) and closed (Delhi-Level) category. The eyes of the under mentioned winners were lit up on winning the prestigious "Qutub Minar" shaped trophy of DCGAA.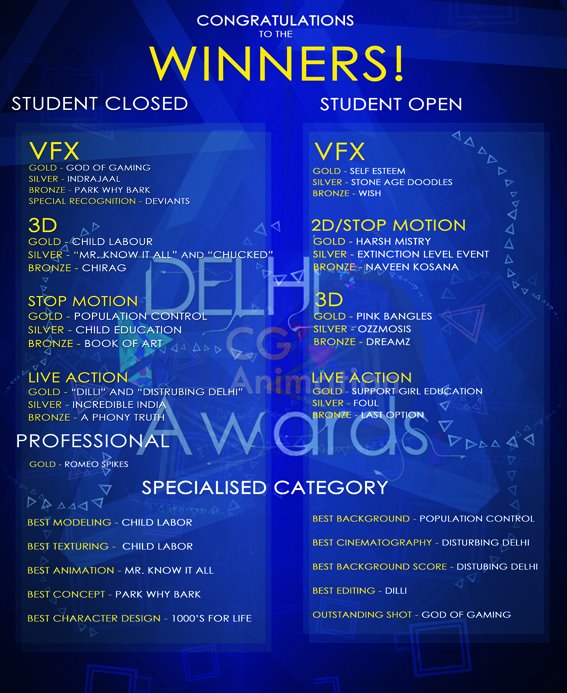 DCGAA had its share of spices lined up throughout the ceremony. A moment not to be missed was when the star cast of Jannat2, including Emraan Hashmi, Esha Gupta, Mahesh Bhatt and Kunal Deshmukh came to the stage and engaged in some interesting conversation with the audience. They promoted their upcoming flick with Emraan Hashmi churning out a couple of dialogues from the film, as well as Mahesh Bhatt told the students about how Emraan was pursuing a career in 3D animation and VFX before becoming an actor.
Though the highlight moment of the evening was when Dr.Kiran Bedi arrived with the team of her NGO, Navjyoti. She inspired and amazed everybody when she spoke about how 3D film-making could be used to resolve social issues such as corruption and poverty and the huge  gap between the number of skilled media experts needed and the current availability. Not only did she spoke at length about it, she also sportingly hoisted the flag with the students during a dance performance on Vande Mataram specially staged for Dr.Bedi.
Post event, Mr. Deepak Choudhary, Director, DCGAA said that, "This event today is everything we had thought of. We are extremely proud of the entries we have received. This award is a huge part of our endeavor to obtain the "never been, never done" things out of the existing Animation and VFX industry".
Delhi CG Animation Awards has surely made a dent in the film making fraternity of the capital city and has successfully established itself as an annual extravaganza, worth waiting for!!!
Back to History